My LED's came in the mail along with the Arduino board from Sparkfun.com and the PCBs for the actual electronics.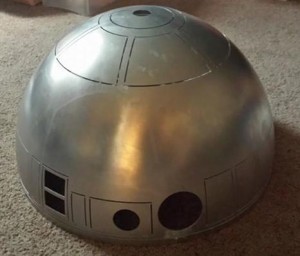 My 300mm Aluminum Dome came in the mail and it is sweet!
It looks like a lot of work. It will have to be sanded down and polished and I am sure this will take a lot of time to do. Knowing me, I will probably jump between tasks. It will need to be deburred and have the pie panels cut out. The dome lights will have to be made and put it. This is going to be fun.
My first task was deciding what dome I wanted to build.  Two options are usually presented and they are:
Styrene
Aluminum
I decided to go with an aluminum dome since I felt it looked nicer than a styrene dome and was more authentic to me, however it does come with a price tag to it!  In Astromech.net forum under Aluminum Parts Runs, I located the thread for the 300mm Aluminum dome and forked out the $490 for this bad boy.  All I can say is I hope it is worth it!